Fight Night Champion XBOX360-COMPLEX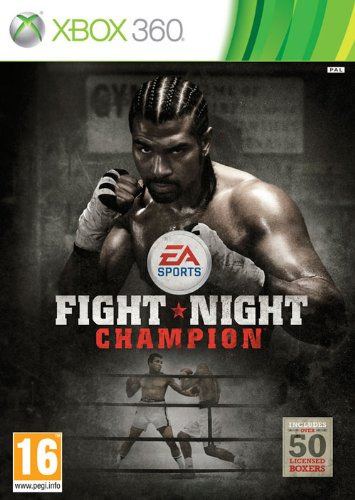 Fight Night Champion is a multiplayer boxing game for play on Xbox 360 that blends traditional one-on-one pugilistic action of previous games in the Fight Night franchise with new, more gritty story-driven gameplay rooted in the all-new Champion Mode. Game features include: unprecedented precision and accuracy of punches; local and online multiplayer support for four and ten players respectively; and a cast of more than 50 boxers from multiple eras and weight classes.
The True Brutality of Boxing
More than just a change to the franchise name, Fight Night Champion takes the video game boxing experience one giant step forward by delivering an experience never before seen in an EA Sports video game. History will be made with this revolutionary iteration that builds upon the best-in-class gameplay and physics engine of Fight Night Round 4, while immersing you in a world of brutality, uncertainty, betrayal and redemption. Do you have what it takes to take the fight into the championship rounds? If so, the brutal road to redemption awaits with Fight Night Champion.
Champion Mode
Although Fight Night Champion contains the classic toe-to-toe boxing action set within Legacy Mode that has made the franchise a success, the addition of the story-driven Champion Mode is what truly sets it apart from any game that has come before it. A dark, gritty story centered around the up-and-coming fighter Andre Bishop, and the corruption that preys upon his rise and fall in and out of the ring, the mode features a variety of game environments, characters and opponents, boxing as well as bare knuckle fighting situations and adversity that requires the heart of a champion if the player hopes to prevail.
Features :
* Full Spectrum Punch Control – Control your boxer's punches with precision and accuracy like never before with a new synergy of gameplay controls. From overhand punches to strategic counter jabs and one-punch knockouts, overwhelm your opponents with your refined skill set.
* Physics-Based Gameplay – Move around the ring and time your attacks with precision. Building off the best-in-class gameplay engine featured in Fight Night Round 4, you now have an even wider range of abilities when it comes to counterattacks, setting up combos, and attacking your opponent.
* Legacy Mode – Create your alter ego and put him in the ring against past champions. Work your way up the ranks through training and scheduled bouts, and establish your name as the fighter to beat. Take your boxer online and see how you size up against the best in the world competing for local or worldwide belts in the all-new Fight Night Nation.
* Champion Mode – Experience a Fight Night game like never before in this story-driven mode that explores a dark, corrupt side of boxing that requires the true will of a champion to prevail in.
* Authentic Content – Fight Night Champion showcases the truest graphical representation of the sport, lifestyle, and culture of boxing with authentic and dynamic blood, realistic body damage and deformation, and mature content throughout. Experience the violence and brutality that is true to the trade.
* A Large Cast of Real Fighters – Fight Night Champion features over 50 licensed boxers pulled from multiple divisions, ranging from current superstars like the current pound-for-pound phenomenon Manny "PAC-Man" Pacquiao and the titans of the upper divisions such as David Haye, Eddie Chambers and the Klitschko brothers, Wladimir and Vitali. In addition the game contains legendary greats like Muhammad Ali, Mike Tyson, "Sugar" Ray Robinson, Lennox Lewis, Jake Lamotta, Joe Frazier, Marvin Hagler, Ray Leonard, Thomas Hearns, Roberto Duran and many more.
* Multiplayer Support – Players enjoy 1-4 player support locally, as well as 1-10 player support online.
Release name: Fight.Night.Champion.XBOX360-COMPLEX
Size : 7476 MB
Region: FREE
Publisher: Electronic Arts
Developer: EA Canada
Release Date: 25.02.2011
Genre: Sports / Boxing
Language: ENG
Aby zobaczyć ukryty tekst musisz być zalogowany, jeżeli nie masz konta
zarejestruj się
!